Property owners may have one or two rental properties for additional income or manage several properties as full-time jobs. Suppose you are collecting rent and managing the property as a landlord. In that case, you need landlord insurance for protection from financial loss resulting from damage to your rental property, lawsuits, and more.
What does landlord insurance cover?
Landlord or rental dwelling insurance for New Hampshire and Vermont rental property owners provides coverage if you're offering one or more residential apartments, condos, or homes for rent.
This coverage protects you from losses that can result from property damage caused by natural disasters, break-ins, and more.
Landlord policies also offer coverage for any personal property you leave on-site for maintenance or tenant use, like appliances, lawnmowers, and snowblowers.
Policies can also help cover loss of income in the event your rental units become uninhabitable due to circumstances beyond your control, as well as coverage for injuries to tenants or their guests.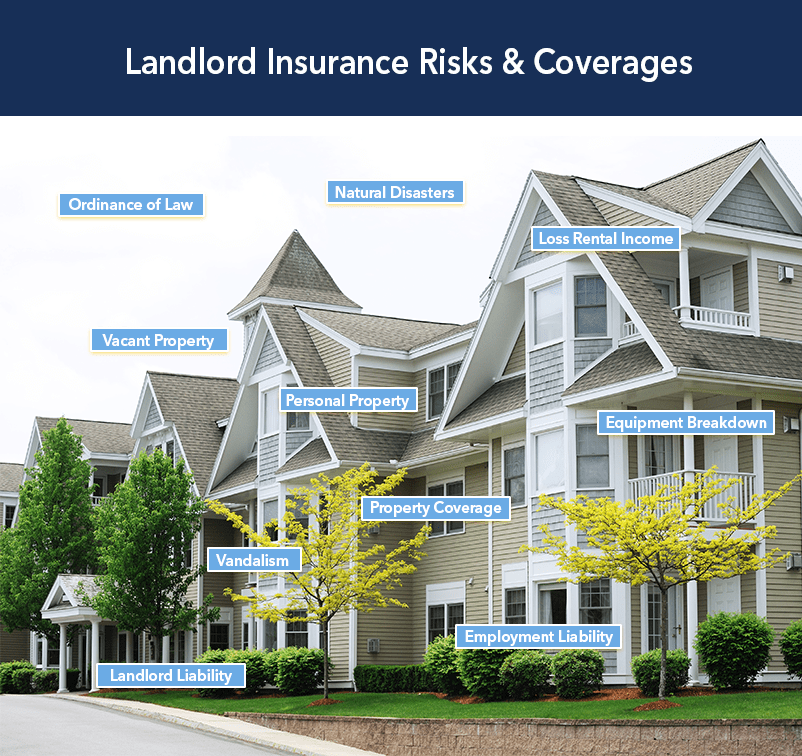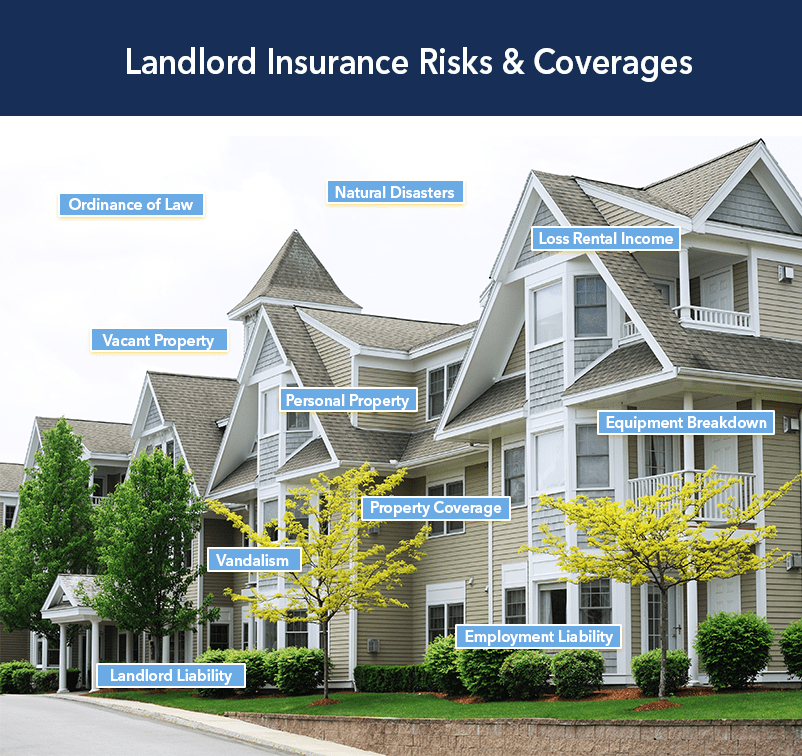 How much landlord insurance do I need?
"Expect the best and prepare for the worst" is a saying we often hear people say. It is especially true when managing risks as a rental property owner. Many things help determine how much landlord insurance you need.
Not all states require Landlord insurance, but as part of a risk management strategy, it makes sense to secure landlord insurance if you're collecting rent and managing a property. Otherwise, those costs come out of your pocket if your property is damaged. Working with a trusted insurance advisor is one way to determine if you have the right type and amount of coverage for your property.
Types of rental property coverage
Your New Hampshire or Vermont rental property policy may include some or all of the following:
Property damage: Covers damage to your building(s) and personal property due to storms, fire, theft, vandalism, and tenant damage. Experts recommend your policy cover the replacement costs for your entire rental property in case of a total loss.
Liability insurance: If a tenant, guest, or trespasser injures themselves on your rental property, you could be held legally responsible. Liability insurance covers the costs associated with lawsuits and medical bills. It also covers you if you are held liable for damaging someone else's property.
Loss of income: Covers lost income if your rental property becomes unusable due to a fire, storm damage, or other covered events.
Optional coverage: There are several optional riders you can add to your landlord policy, such as building code coverage, a non-occupied dwelling endorsement, rent guarantee insurance, and heating or air conditioning loss reimbursement.
How much does landlord insurance cost?
It is difficult to determine your exact cost until your agent understands the unique aspects of your rental property business. When estimating pricing, your premium costs are affected by a number of factors, including:
Your location
The size and condition of your building
How many rental units do you have
The specific type of coverage you're purchasing
If your electrical wiring is up to code
If you allow smokers and/or pet owners to rent from you
If the complex has a swimming pool
If you have fire sprinklers installed in your rental units
If the complex has gated access
If you have burglar alarms
Landlord insurance is vital if you own any rental property. Ensure you're protected from unnecessary financial risk by contacting your insurance professional for assistance in getting the appropriate landlord coverage for your specific needs.
How much coverage do I need?
Establishing coverage limits for your property is part of the process and something your agent can help guide you through. The policy coverage limits determine the maximum payout for claims. Establishing adequate policy limits can save landlords from paying out of pocket for losses when the policy limits are not enough. Property owners look to balance the level of coverage with the cost of their premiums.
An essential first step is to determine the value of the property and the payout for a total building loss. There are two options to choose from. The choice of how to insure your property will affect both the cost of your premiums and the total payout.
Replacement cost vs. Actual Cash Value
Since insurance costs are part of landlords' monthly and annual expenses, they are keen to find ways to control costs. The assigned value of the property you plan to insure will impact the cost of your premiums. Your agent has cost estimator tools to help establish the property's value. Once you know the value, you can insure the property according to the actual cash value (ACV) or the replacement cost (RC). So, what is the difference between the two, and how does it affect your premium costs and coverage?
Actual Cash Value: Pays for the loss according to the depreciated value. It also accounts for the home's age and condition at the time of the loss. Insuring for actual cash value will result in lower premiums but may not provide enough coverage to rebuild like new.
Replacement Cost: Full replacement cost coverage is based on the replacement cost estimate listed on the policy. It does not factor in depreciation but does account for materials costs, labor, and design costs at the time of the loss. Payout is the amount it will take to rebuild like new at the time of the loss.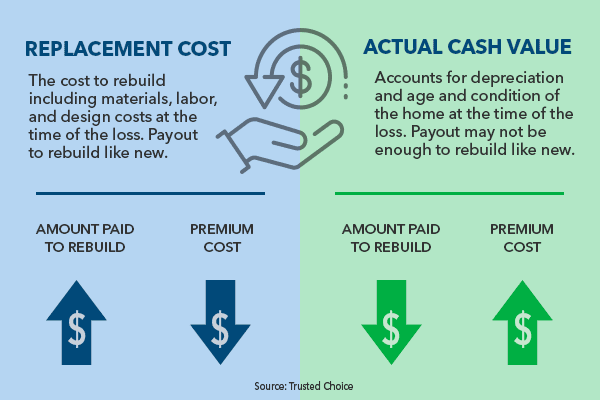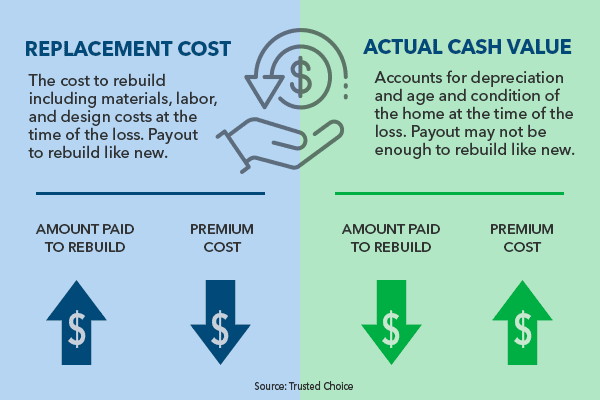 What's not covered by landlord insurance?
Landlord insurance policies have exclusions in coverage. Some exclusions include:
Property Maintenance – For example, don't expect your insurance policy to replace your roof if it's old and needs repair. However, if a storm or another covered peril damages your roof, your policy would pay to fix the damage.
Equipment Breakdown – systems have wear and tear over time. For example, when your furnace breaks down, it is not covered by insurance unless the loss results from a covered peril.
Flood Damage – Property insurance does not cover flood damage. A separate flood policy covers flood damage.
Earthquake damage – As with flood damage, earthquake damage is covered by a separate earthquake policy.
Tenant's personal belongings – A tenant's rental policy covers tenants' personal property. The landlord is not responsible for personal items within the rental units.
Consult with an agent about rental property insurance needs. Call 800-392-6532, or get started by filling out our quote form.
This content is for informational purposes only and not for the purpose of providing professional, financial, medical or legal advice. You should contact your licensed professional to obtain advice with respect to any particular issue or problem.
Copyright © 2022 Applied Systems, Inc. All rights reserved.