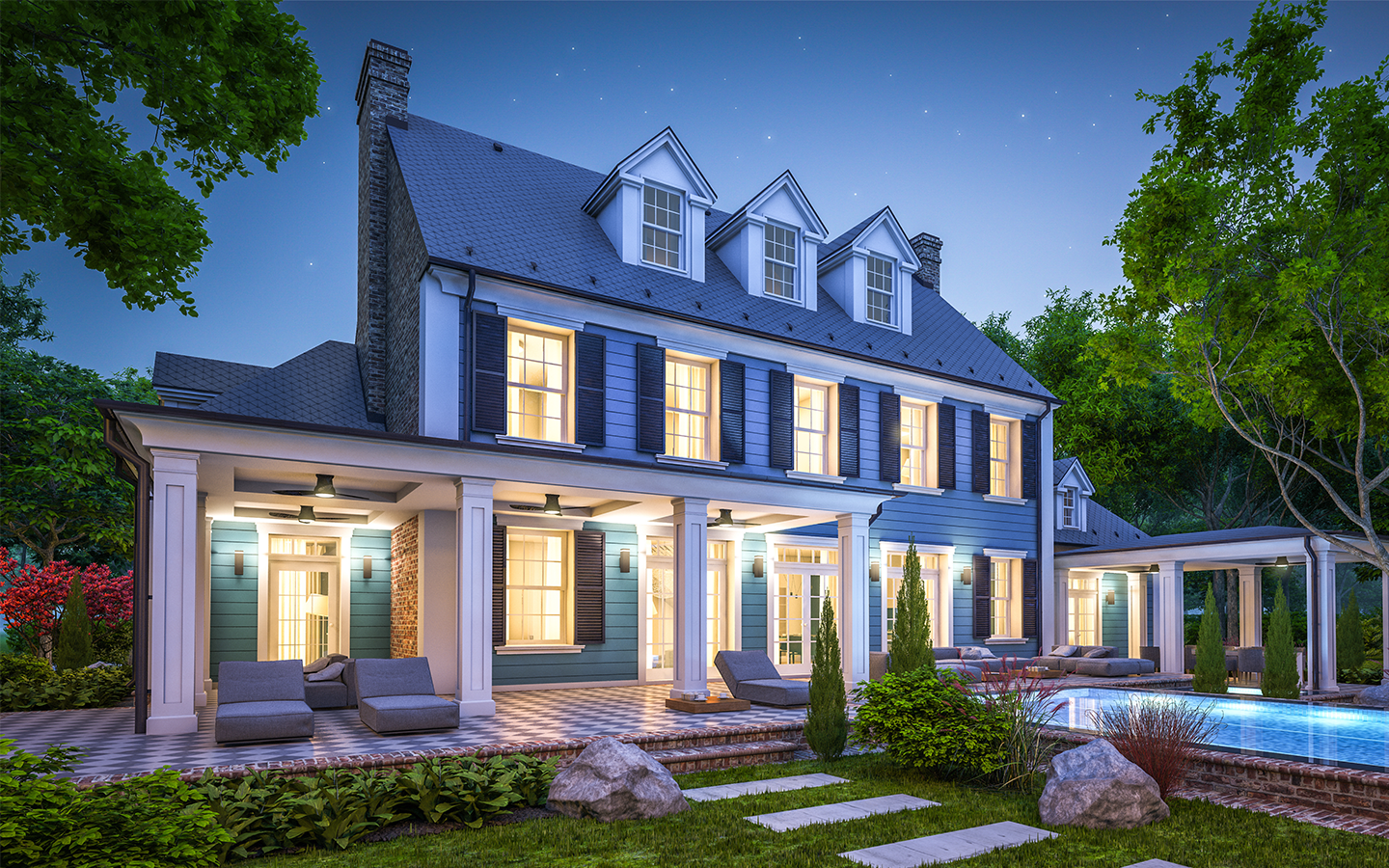 High-value homeowner's insurance
Statistics show that as many as 40% of all high-value homes are underinsured. Generally, what this means is homeowners are likely to have enough insurance to close on their mortgage at the time they purchase, but buyers beware; closely examine whether the policy will provide proper coverage if their home is a total loss due to damage from a covered peril. This can pose a major issue for homeowners who may assume the coverage they have is enough. It is easy to understand that high-value homes need more comprehensive policies to match the greater value of their home and property.
Let's take a closer look at what makes a high-value home insurance policy different.
What are three types of homeowners' insurance?
Home insurance policies are not a one size fits all. In fact, there are different types of home insurance policies designed to meet the needs of different types of homes and homeowners.
There are options in coverage depending on the type of homeowners' application used. A common assumption is that if the coverage limits match, a policy or quote comparison is "apples to apples." The reality is that homeowners' policies are substantially different, even though they may appear identical.
The coverage varies significantly depending on whether the HO3 or HO5 form is used. The HO3 is the most widely available policy form and is generally the minimum coverage requirement when obtaining a mortgage. An HO3 covers a broad range of property types but has more limited coverage for your personal belongings, as detailed below:
COVERAGE TYPE
HO3 - home insurance
HO5 - home insurance
Dwelling Coverage
Open Perils
Open Perils
Contents Coverage
Named Perils
Open Perils
Open Perils: Insures against all causes of loss except those expressly excluded.
Named Perils: Insures against a list of specified causes of loss.
List of Named Perils that limit personal property coverage under an HO3
Theft
Fire or Lightning
Explosion
Smoke
Freezing
Vehicles
Falling Objects
Volcanic Eruption
Windstorm or Hail
Riot or Civil Commotion
Damage caused by Aircraft
Vandalism or Malicious Mischief
Damage due to the weight of Ice, Snow, or Sleet
Sudden & Accidental Tearing Apart, Cracking, Burning, or Bulging
Sudden & Accidental Damage from Artificially Generated Electric Current
Accidental Discharge or Overflow of Water from Plumbing, Air conditioning, etc.
The HO5 Difference
The HO5 removes many of the limitations of the HO3, adds new coverage, and expands existing coverages, such as a higher limit for jewelry items and personal business property. An HO5 automatically provides replacement cost coverage on contents. Another benefit of the HO5 is that you no longer need to prove that the damage to your property was caused by one of the named perils. Understanding the difference can take a lot of the uncertainty and headache out of adjusting to a loss.
Another type of home insurance is an HO6 used specifically for condominiums, referred to as Condo Insurance.

What qualifies for high-net-worth home insurance?
While this sounds appealing, you can't base the definition of high value on personal preference. Each carrier will have its own standards for what qualifies you for high-value home insurance. As a high-end homeowner, you can view your insurance agent as your protection partner. They have the expertise to guide you and ensure you have the proper coverage in place to protect your home and your property.
While each carrier has different qualifications, we can offer some general guidelines that most policies fall under. For example, most of the time, the qualification for home value is between $750,000 to $1,000,000, with an above-average reconstruction cost. Above-average, in this case, means that you would not be able to get away with restoring a single room in a different manner in the event of damage without significantly lowering the value of the house.
Essentially, high-value home insurance is any policy specifically designed for homes with more value and higher reconstruction costs than the average home. This can be for several reasons. A home may have historic qualities/ value, special features, or unique design elements.
What types of coverages are available to high-value homeowners?
Despite the name, you can get high-value home insurance for condos and rental homes, provided they meet your insurance companies' qualifications. The most common reason people look into high-end home insurance is for greater coverage to protect one of their most valuable assets, their home. High-value plans generally have larger policy limits to cover things like:
Reconstruction costs to comply with local bylaws.
General structure repair or replacement.
Landscaping design.
Cyber protection for lost/stolen digital property.
Collections (money, jewelry, art, antiques, etc.).
Living expenses while waiting for restoration.
High Value Home Insurance Clickable Coverage Map
Water Damage
Risk Factor
Whether entering from outside your home from a flood or from within your home's plumbing system, water damage is the most common cause of loss to a home. Many policies exclude losses caused by backup of sewers and drains, and all unendorsed homeowner policies exclude damage caused by a flood.
Solution
Careful review is essential to protect your home and belongings from all sources of water damage. We recommend coverage solutions from insurance companies that include backup of sewers and drains. Also, identify cost efficient solutions to address the risk of flood damage in the first place.
Valuable Possessions
Risk Factor
Typically, there is a sublimit on homeowner insurance policies for valuable possessions, such as jewelry, furs, fine arts, and other collectibles.
Solution
Obtain a personal floater or schedule your valuable possessions to ensure you'll have the money to replace them.
Collector Cars
Risk Factor
Collector or classic vehicles often have significant value and require special documentation and unique insurance coverage to ensure they are adequately protected. Even if stored on your property, they are typically not covered under your homeowners insurance.
Solution
Insure your collector cars with a specialized insurance company that focuses on and understands the unique nature of collector or classic cars and other vehicles.
Cyber Risk Coverage
Risk Factor
With more smart technology in homes and technology at your fingertips, malware, hackers, and other cyber threats can jeopardize your security, finances, and reputation.
Solution
Identity theft, personal injury, and cyber risk coverage may be available as an important add-on coverage to your homeowners policy.
Workers Compensation / Employee Practices Liability Insurance (EPLI)
Risk Factor
There are risks associated with employing domestic staff in your home. Employees can become injured on the job, leaving you to pay out-of-pocket for their medical expenses. Additionally, staff can sue for wrongful termination, privacy issues, discrimination, and harassment claims.
Solution
Be sure to obtain coverage for medical expenses when your staff are hurt while on the job. Additionally, employment practices liability insurance can protect you from high legal costs associated with lawsuits and additional claims from current and past employees.
Additional Living Expense
Risk Factor
When there is substantial damage to your home due to unexpected events such as lightning, fire, or a storm, you may not be able to live in your home until it can be repaired or rebuilt. As a result, you could incur additional living expenses for lodging, food, and other daily needs.
Solution
Look for coverage that provides higher limits to ensure that your schedule and your standard of living is not compromised. Additional living expense coverage compensates you for the costs incurred for housing and other living expenses if a covered event makes your home temporarily uninhabitable while it's being repaired or rebuilt.
Excess Liability Coverage
Risk Factor
You invite guests over for a pool party and one of them dives into the shallow end of the pool and is permanently injured. They hire a lawyer to represent them and after a long legal battle, you and your family are left financially responsible for their injuries.
Solution
An excess liability (or umbrella policy) increases your personal liability limits by adding protection over and above your current auto, boat or homeowners policies. Excess liability insurance is available as separate coverage and offers additional peace-of-mind knowing that you have the protection you need.
Fire
Risk Factor
Most fires are devastating. Besides the emotional impact, the physical damage to your home can be significant. If you lost your home to fire, do you have adequate insurance to replace your home and its contents? Remember, inflation rates on building materials and construction costs rarely track with real estate values. As a result, rebuilding a home can often cost significantly more than expected.
Solution
Make sure your homeowners policy contains replacement cost coverage with no cap. This protects you if the cost to reconstruct your home is higher than your current limit of coverage. And, be sure that your insurance includes rebuilding your home to code. Very often, local ordinances and building codes change over time, which may require additional costs.
Personal Liability
Risk Factor
In the unfortunate event that someone slips and falls while on your property, you and your family may be held liable for any injuries that result.
Solution
Your homeowners policy includes personal liability coverage to respond to incidents where injuries or damages occur to a third party where you may be deemed negligent. However, you should consider purchasing an excess liability policy to provide additional coverage limits to protect your assets in case a lawsuit is brought against you.
Flood Coverage
Risk Factor
You do not have to live near a body of water to suffer loss due to flooding. With the changing weather patterns and more damaging storms occurring around the globe, flood losses are becoming more common in places that are not normally prone to flood damage. Your homeowners policy does not cover damage from flooding. Could your home be at risk?
Solution
Purchase a flood insurance policy to protect your home and covered contents from certain types of flood losses as designated by the National Flood Insurance Program (NFIP). In the U.S., a flood policy is purchased as a separate policy through the federal program (NFIP) or through a servicing carrier known as a write-your-own carrier. Additionally, you may be able to purchase excess limits on your homeowners policy to better protect your home.
Secondary Home / Rentals
Risk Factor
Owning a secondary home or rental property has the potential of increasing your liability exposures.
Solution
Be certain that you extend the liability coverage under your homeowners policy to include your secondary home. You should also consider including the secondary home under an excess liability policy to provide for additional liability limits.
Travel Insurance
Risk Factor
Traveling is exciting, but there are risks associated with every trip. Whether for work or pleasure, reducing stress always improves the travel experience. If you travel to another country, the insurance policies you have may not be applicable. Other things to consider are costs associated with crime, injury, or death while traveling.
Solution
Various types of travel insurance are available that may offer protection in case of lost baggage, trip cancellation or delays, or trip interruption. You may also want to consider policies that cover accidental death and dismemberment, as well as the repatriation of remains.
Equipment Breakdown
Risk Factor
While your homeowners policy covers a wide array of perils, such as damage caused by a fire or a falling tree, it doesn't cover some common types of problems that can occur to the equipment in or around your home. For example, a sudden surge from the local power plant might damage appliances, HVAC systems, or your home power generator.
Solution
Add mechanical breakdown coverage to your homeowners policy. If you have multiple homes, it can be purchased for each one individually. Keep in mind that while it does protect against major events, it does not cover normal wear and tear.
Special Event Coverage
Risk Factor
Planning a wedding, bar mitzvah, bat mitzvah, family reunion, or other private event is stressful enough. The last thing you should worry about is severe weather that could cause you to postpone the event. Or, what happens is a vendor goes out of business or declares bankruptcy before your event and you lose your deposit?
Solution
No matter how carefully you plan, things outside of your control can go wrong. Purchase insurance coverage for your event. It's typically not very expensive and helps keep you focused on all of the things that go into making your event truly memorable.
Mold Coverage
Risk Factor
Insurance companies often limit coverage to remediate mold that arises from a covered loss.
Solution
With many homeowners unaware of this risk or the limits of their own coverage, be sure to discuss the coverage options and loss prevention solutions to help reduce this risk.
High-value home insurance coverage considerations.
What should guide your decision if you're on the fence about getting these policies? A lot of it comes down to the scale of your coverage. To give you an idea, let's say that someone's basement was damaged due to a burst pipe or water heater. Traditional home insurance would give them a limited cash amount to go towards the replacement of the basement and additional costs incurred during this process. However, if your basement has a damaged custom-built wine cellar, the value lost likely wouldn't be covered under that potential limit.
However, coverage limits aren't the only reason those with high-value properties should look into additional insurance. For one thing, the value of certain homes can appreciate over time, requiring coverage that will be able to adapt to meet that increase in value or be unlimited from the start.
Another major point is that high-value homes can be more vulnerable to theft, both due to the presence of high-item possessions as well as more people present around the grounds (for example, hired staff or guests). When you decide to go with a high-value home insurance policy, you're getting protection appropriate for your entire estate's value.
What are high-net-worth home insurance companies?
There are several high-net-worth home insurance companies to choose from. One benefit of working with an independent insurance agent is they will likely have several companies to choose from. Some companies specialize in high-value homes, while others offer home insurance for standard homes and high-value homes. Some companies that have high-value home insurance programs are Central Insurance, Hanover Insurance, Safeco, and Openly. There are more companies that offer high-value home insurance in New Hampshire than in Vermont. There are a few options available in Vermont. Talk to an agent about your options.
How does an insurance company determine the value of a home?
As mentioned before, your insurance company will qualify your home for a high-value insurance program based mainly on the cost of rebuilding your home. They will start with an assessment tool called a Replacement Cost Estimator. This tool will use available data about your home, such as it's size, age, location, materials costs, and labor cost in your area, If they determine the cost to rebuild your home. Your agent will also want to know what custom and special features your home has.
High-value homes often use premium materials and custom designs that upgrade the home's value and appearance. In case of a loss, to keep the home's integrity, you would want to rebuild with the same materials and style, which will incur a higher cost. A higher level of coverage will help accommodate the increase in costs. Every home is unique and may qualify for different reasons.
Here are some examples:
Unique design elements: If you enlisted the services of an interior designer or an architect for the design of your home, you would likely need to bring them on again in the event of a repair or restoration.
High-priced additions: High-end appliances and fixtures are more expensive to replace. The same applies to additional property features, like outbuildings, custom landscaping, or outdoor living areas.
Non-standard roofs: Roofs are expensive to replace or repair. Costs can increase significantly when roofs have more elaborate designs and use custom materials such as slate, standing seam, wood shingles, or copper.
Green homes: Designing a home from the ground up to be environmentally friendly (heating, materials, etc.) is more accessible than before but is still quite expensive.
Another thing to consider is the cost of labor in your market. Labor makes up 40% of the build cost, with permits, design fees, and materials making up the rest.
What sets a high-value insurance policy apart?
Appropriate protection requires a lot more than just expanded coverage limits. Here are some additional details that make high-value home insurance unique. While the exact features vary based on your insurance company, some common additional features are worth mentioning. High-value home insurance programs are designed for customers with unique needs.
Increased/unlimited coverage: These higher amounts of coverage are necessary for people with
higher-value homes to maintain their standard of living in the event that their original property is destroyed.
Full-cash vs. partial loss payouts on total home loss: Higher coverage limits for certain structural and personal components. Many of these payouts can be done without depreciation factoring into the settlement of your claim.
Expanded high-value item endorsement coverage: This allows scheduled high-value to have expanded or higher coverage limits.
Full coverage vs. partial room loss coverage: The same thing applies if you only have a partial loss in a certain room. For example, if part of your bathroom is damaged, most standard insurance policies will only replace the portion of the bathroom that's damaged and not the parts that are undamaged, while many high-value policies cover the cost to repair the entire room back to it's original condition.
Full coverage for loss of pairs or sets: Standard home insurance can often reduce the payable amount to the single lost item, not the entire set. High-end home insurance can replace the entire pair/set, even if you only lose one part.
High-value home insurance policies make it easy to include additional coverages such as:
Liability policy for domestic workers
Coverage for high-value vehicles
Coverage for business assets used at home
Special considerations for high-value homeowners
It's important to take a holistic view of your financial security. Additional exposures could threaten your financial
security and lifestyle. Here are some common examples:
Liability Lawsuits: High net-worth people are often at greater risk of targeted lawsuits. There is also an increased risk of liability lawsuits filed by domestic workers. Coverage
of domestic workers should be part of the conversation, and a workers' compensation policy may be recommended.
Expensive vehicles: Your agent can help you by including coverage for luxury cars. They can help create a complete insurance coverage plan that matches your needs.
High-risk hobbies: Learning to fly a private plane, para-sailing, boating, and remote travel — all carry an element of risk. If the worst happens, ensure you have coverage for medical expenses and loss of income.
Collectibles: Whether we're talking about classic motorcycles or cars, or memorabilia collections, some of these items can appreciate in value. That means high coverage or unlimited coverage is even more important.
High-value item endorsement: Items such as antiques, fine art, firearms, jewelry, and expensive technology, will generally go hand in hand with your high-value homeowner's insurance. By scheduling these items, you can get coverage for the actual cash value for full replacement cost.
Consult with an agent about high-value home insurance for your home.  Call 800-392-6532, or get started by filling out our quote form.
This content is for informational purposes only and not for the purpose of providing professional, financial, medical, or legal advice. You should contact your licensed professional to obtain advice with respect to any particular issue or problem.
Copyright © 2022 Applied Systems, Inc. All rights reserved.