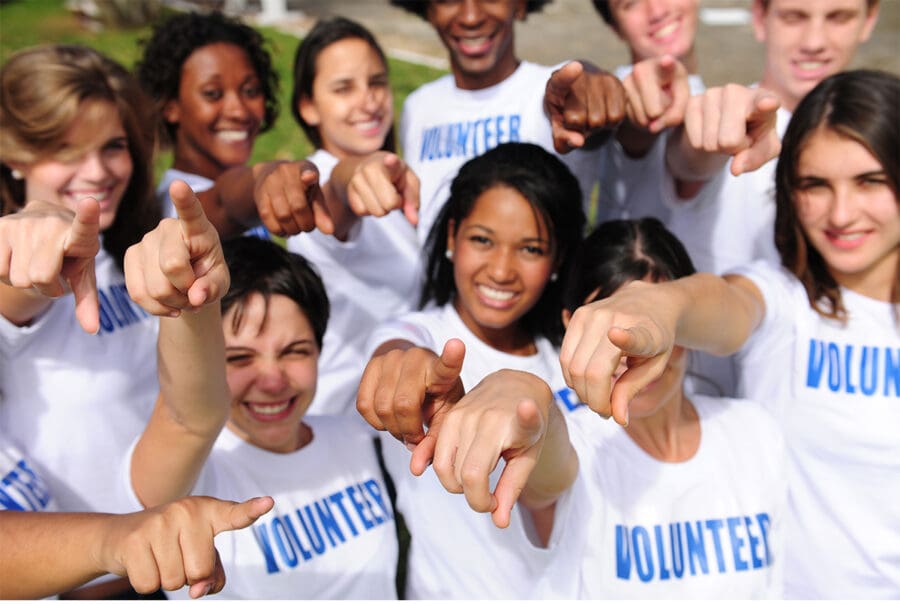 Non-profit organizations rely on their leadership to make important decisions and guide the organization toward its goals. However, these leaders may face legal liabilities for their actions, which is why directors' and officers' insurance is essential. Learn more about this type of insurance and how it can protect non-profit organizations and their leadership.
What is directors' and officers' insurance for non profits?
Directors' and officers' insurance, also known as D&O insurance, is a type of liability insurance that provides financial protection for the directors and officers of a non-profit organization.
Why is it important for non-profit organizations?
Non-profit organizations depend on the leadership of their directors and officers. They are the guiding force behind the non-profit and they make important decisions about the organization's operations. Directors' and officers' insurance is a protection mechanism for these leaders because they can be held personally liable for any mistakes or wrongdoings that occur within the organization. D&O insurance provides a layer of protection for both the leaders and the organization, ensuring they can continue to operate and fulfill their mission without the potential financial risks.
What does directors' and officers' insurance cover?
This insurance covers legal defense costs and damages that may arise from lawsuits or claims against the organization's leadership. D&O insurance is designed to protect the personal assets of directors and officers and the organization itself.
D&O insurance can provide coverage for various situations, but understanding protections upfront is key to mitigating risk.
Examples of what directors' and officers' insurance may cover include:
Actual or alleged wrongful acts
Decisions with unintended consequences
Omissions
A typical policy may include coverage for the defense costs and financial losses resulting from a claim within the limits of liability stated in the policies. Claims involving potential lawsuits might include negligence claims, mismanagement, wrongful termination, employment disruptions, or sexual harassment. These are sometimes excluded from D&O policies and packaged as Employment Practices Liability Insurance (EPLI). We recommend coverage (EPLI and/or D&O insurance) if you have paid staff.
What is not covered by directors' and officers' insurance?
A D&O insurance policy will cover a variety of situations. For example, does the policy include prior acts or coverage for previous board members?
D&O policies may have limitations and exclusions that consist of the following:
Acting for personal profit
Breach of contract
Dishonest acts
Fraud
Intentional acts of noncompliance
Claims made under previous policies
When faced with a claim, it's crucial to connect with your insurance agent or insurance company quickly. Understanding the coverage for a potential claim will guide you in planning the next steps.
Three reasons to consider directors' and officers' insurance for your nonprofit
1. Directors and Officers are at risk due to their activities with your organization.
We are grateful to the non-profits that serve our communities and the people who step up and take leadership roles. A nonprofit board of directors is one of the most important assets. Board members volunteer their time and energy to oversee the decisions and activities made by your organization. The liability risks directors and officers face aren't often realized until it's too late – and unfortunately, they happen without the right protection.
2. The Volunteer Protection Act (VPA) may not provide enough protection.
You might think board members are covered against whatever claims arise under the federal Volunteer Protection Act (VPA), but this isn't always the case. You may consider directors and officers liability insurance (D&O) as an added protection for the rare instance your nonprofit board is faced with a lawsuit.
3. Nonprofit organizations are not immune to lawsuits.
Both for-profit and nonprofit organizations face potential liability lawsuits. According to Towers Watson S&O Liability Survey, 85% of claims are employee related. Nonprofits also face liability claims from vendors, competitors, donors and stakeholders, and government regulators.
Directors' & Officers' Insurance Quote Request
Examples of directors' and officers' insurance claims:
Employee-related claims top the list of common D&O-related claims.
As with any organization, whether for-profit or nonprofit, employee relationships present a risk, especially if an employee feels the organization was negligent or responsible for hurt or injury to the employee. This includes mental, emotional, and physical harm. Examples of employee-related claims include:
Wrongful dismissal
Discrimination or harassment
Breach of employment contract
Failure to address health and safety concerns
Claims filed by competitive organizations.
Non-profits are not unlike for-profit organizations when it comes to competition. Sometimes competitive organizations may feel wronged and file a lawsuit related to perceived wrongdoings such as
Breach of intellectual property
Misuse of trade secrets
Anti-competitive acts
Claims filed by shareholders.
High-level shareholders feel a real stake in the organizations they support and are likely to keep a close eye on operations and the board of directors who run them. This scrutiny leaves directors and officers vulnerable to potential lawsuits.
Activities conducted by your organization can open you up to lawsuits. If you're not sure if you need this type of coverage? Consider these important points about VPA and D&O insurance to guide your decision.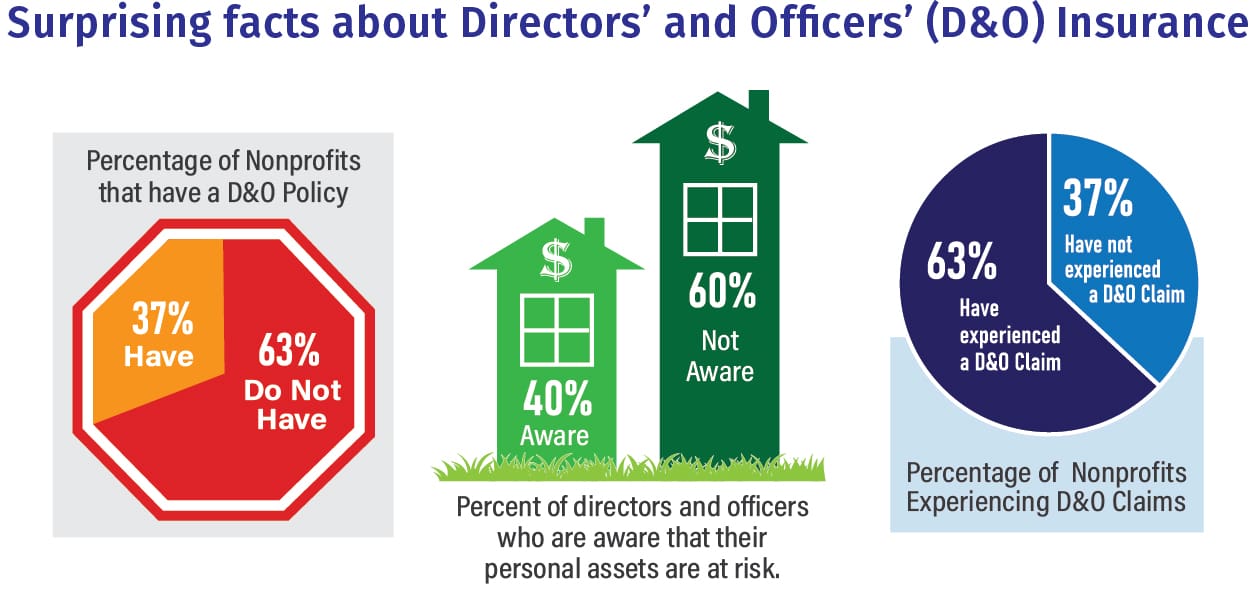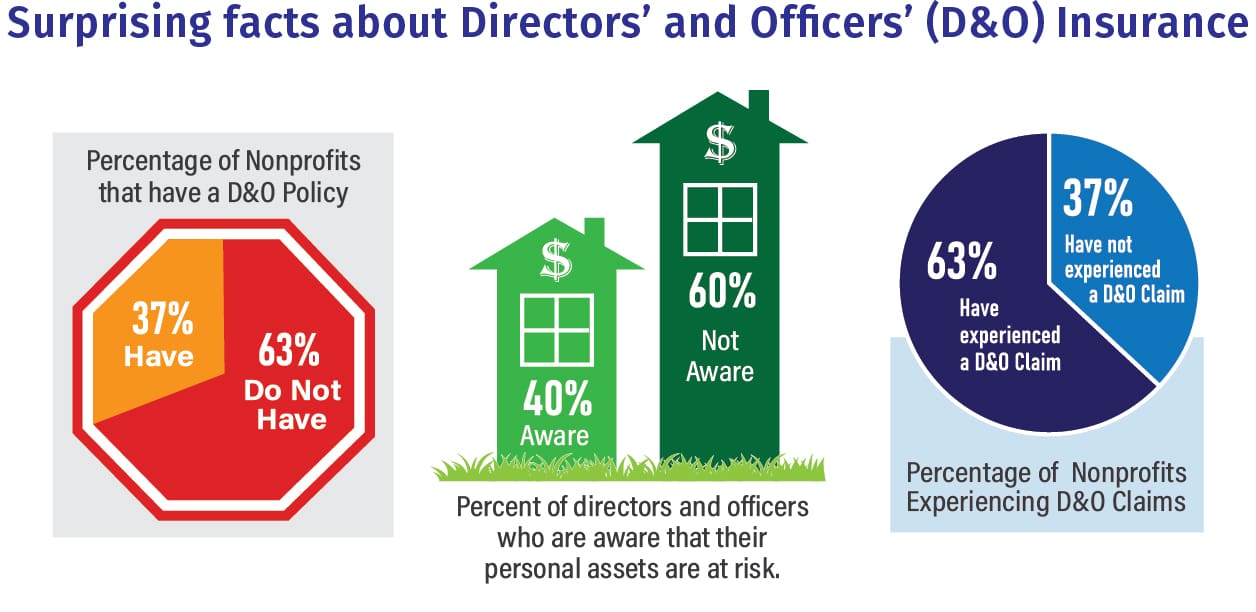 Understand the limits of the Volunteer Protection Act for nonprofits.
The Volunteer Protection Act is a federal law designed to protect volunteers against allegations of harm. This law provides limited immunity for volunteers who do not receive compensation. However, it doesn't protect against all actions and decisions. Additionally, it does not cover the cost of a legal defense.
D&O insurance is a tool that provides broad coverage to minimize potential risk and financial loss.
Weigh the potential risks to your nonprofit
There are various risks your board of directors faces, many of which aren't considered until it's too late. Examples of potential risks include:
Employment-related lawsuits such as harassment and wrongful termination
Tax reporting and filing errors
Failure to ensure compliance with regulations or state and local laws
Claims of negligence in carrying out duties of care and diligence
The claims made against your board can come from a variety of sources, external and internal. For example, employees, competitors, creditors, and tax authorities might make claims. Additionally, donors may argue funds were not used in a manner consistent with your organization's values.
Assessing potential risk is critical in deciding what coverage is needed and how much should be purchased. Your insurance professional can assess your risks and determine what type of policy is right for you.
Understand your liability and risk exposure.
Assess your risk exposure areas before you buy a directors' and officers' policy.
All policies aren't created equally. A standardized D&O form doesn't exist, and while these policies don't protect against every potential risk, matching the right risks to the appropriate policy helps mitigate those risks in the future.
Avoid selecting a policy based only on the price. Price is important, but it's also critical to weigh that price against potential scenarios for loss. What specific scenarios do your board members face? If the likelihood of particular risk situations is high, selecting a policy that covers those situations is critical. Selecting a policy that doesn't provide adequate protection could be a costly mistake in the future.
Moving forward with greater protection
A nonprofit is never "too small" for D&O insurance. General liability insurance typically covers limited situations, such as those related to bodily injury or property damage. Many scenarios aren't covered under this general type of protection.
Your insurance professional can ask the right questions to understand your nonprofit's risk exposure. Talk with them about their prior experience with D&O claims to determine where coverage is critical to mitigating loss. Providing complete coverage ensures peace of mind to those who voluntarily invest their time serving the interests of a company.
To consult an insurance advisor about Directors' and Officers' coverage for your nonprofit, call 800-392-6532 or email insure@colby-group.com.
---
This content is for informational purposes only and not for the purpose of providing professional, financial, medical or legal advice. You should contact your licensed professional to obtain advice with respect to any particular issue or problem.
Copyright © 2022 Applied Systems, Inc. All rights reserved.