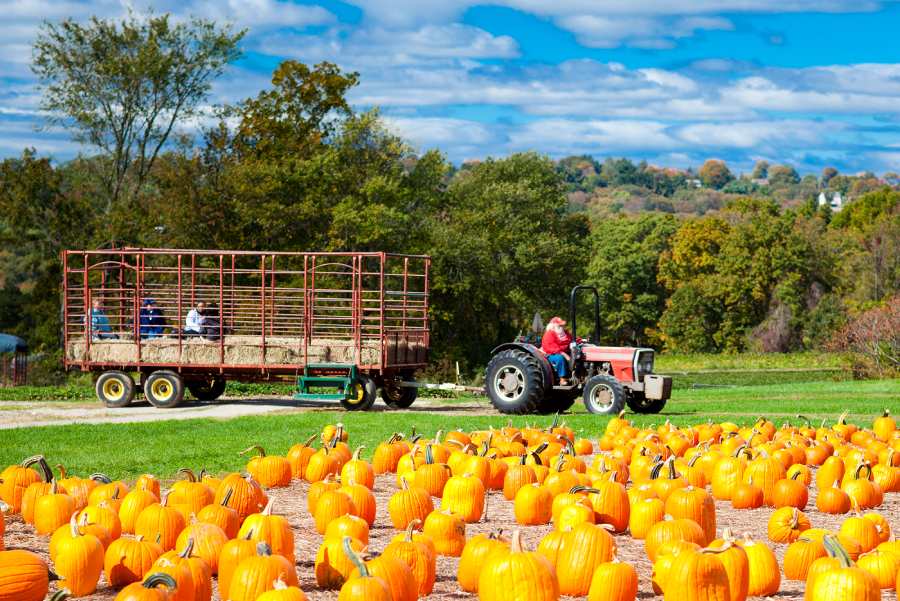 All across New Hampshire and Vermont, many small farms have discovered the additional profit and enjoyment that is possible by adding agritourism to their operations.
Simply defined, agritourism involves entertaining or educating visitors – either for free or to make a profit – by sharing the lifestyle, work and products that you produce.
Yet before you open the gates to farm visitors from New Hampshire, Vermont, and beyond, you need to make sure you have the proper farm insurance in place to safeguard your property, profits and way of life.
Choosing the right agritourism insurance
You're already aware that farming is a hazardous profession – there's risk of injury from equipment, falls, animal bites, physical labor, and more – but once you invite people with little awareness, concern, or understanding of these risks, you face greater probability of complaints and potential lawsuits.
You'll need specialized commercial insurance, often grouped under the term "agritourism insurance." This coverage goes above and beyond the policies you already have in place for your farm or ranch, including your property insurance, general liability, and any specific policies, such as equipment breakdown insurance.
Depending on the unique experiences you plan to offer, agritourism insurance can usually be added to your existing policies as endorsements.
Ultimately, the goal is to identify and address any on-premises activities that are not part of regular farming or ranching operations, many of which are expressly excluded from standard farm policies.
This can include pick-your-own produce activities, selecting or self-cutting a Christmas tree, sampling or purchasing food, wine tastings, and tours, animal petting areas or rides, wagon rides, educational programs, overnight camping, hunting, fishing, and more.
Remember that you still face liability even if you don't charge for a visit and simply enjoy welcoming people to your property to share more about what you do (including the generous offer to have school children come for a field trip).
Dig into the details
Your insurance professional will need to understand exactly what you envision for your own agritourism enterprise. Will you offer regular tours or simply invite people for a few special activities during harvest or the holidays? Will visitors be watching or actually participating in chores? The detail you provide is important because each activity comes with unique liability.
As an example, the risks inherent with selling products from a farm stand (food contamination, clear labeling of potential allergens, even loss of personal information if you process credit cards) are distinctly different from those that might be present when visitors are able to interact with animals or use tools and machinery (animal bites, incidents on a riding trail, or elevated risk of hand or head injuries).
You may need product recall insurance, a foodborne illness policy, and even cyber liability insurance. Your general liability insurance policy may need to be written or adapted to cover visitor injury by animals or farm equipment.
As you add activities, be sure to notify your insurance professional as well. Curious visitors may ask to see more, but you'll want to make sure your insurance still applies when you decide to open the barn doors or add new features to the experience.
Commercial property insurance
Your commercial property insurance needs may also change. For example, you might add a play area, a tasting room, a visitors center, a picnic area or some other costly structures or equipment. Those should be included in your commercial property policy to make sure you don't lose your investment if a severe storm or fire damages or destroys them.
If you come to rely on any new equipment, such as refrigeration or a commercial kitchen, for income, it should be included in an equipment breakdown policy. Adding business income protection to that policy should be considered if it's not already part of your coverage. This kind of coverage keeps revenue flowing while your equipment is restored or replaced.
Workers' compensation
In some states, some agricultural and farm workers are exempted from workers' compensation mandates, so farm and ranch owners may think that applies to all their employees. Check with your insurance agent or broker to see if those working in your tourism operations need coverage. It may be that you need to give them insurance protection for work-related injury and illness.
And if you use volunteers, ask about how to protect your business from the cost of claims for injuries they receive or sickness they contract from their duties. A product called volunteer accident insurance may be helpful, since workers' compensation doesn't extend to volunteers.
Avoid claims in the first place
Equally important as designing a comprehensive agritourism insurance plan is smart risk management. This is one of the best ways to prevent a claim from happening and may be required in order to obtain insurance for tourism.
Your insurance professional should be able to suggest a range of risk management measures, but some of the most obvious include:
Distributing and training on a safety plan that addresses how to handle fire, hazardous spills, visitor injury, weather emergencies, etc.
Regular safety inspections and employee safety reviews
Documentation of regular maintenance of equipment, machine, building and other property
Appropriate veterinary visits for all animals to prevent or care for any injuries or disease
Prompt repair of any damaged property with caution signs in place as soon as an issue is discovered
Clear marking of hazards or restricted areas that are not open to visitors
Supervision of all animal interactions and review of expectations and rules beforehand
Adherence to all food-handling rules and labeling requirements
Prominent display and labeling of known or possible allergens
Safe parking areas with clear directions and regular checks for debris
Compliance with any state or local regulations related to proposed activities
There's no question that agritourism provides an excellent opportunity to diversify your revenue sources and involvement in the community. Layering on new activities may not only generate more income but can also add enjoyment to your daily life.
Whether you're thinking big or just want to add a few simple visitor activities to your farm or ranch, the right agritourism insurance and risk management plan will help you welcome visitors with confidence.
Consult with an agent about Farm Insurance and your Agritourism ideas call 800-392-6532, or get started with a quote.
---
This article is for informational purposes only. Insurance needs and coverages vary; therefore, the terms of your policy will be specific to your situation. We recommend that you discuss your insurance needs with a licensed agent for details on pricing, coverages, and exclusions.
This content is for informational purposes only and not for the purpose of providing professional, financial, medical or legal advice. You should contact your licensed professional to obtain advice with respect to any particular issue or problem.
Copyright © 2022 Applied Systems, Inc. All rights reserved.